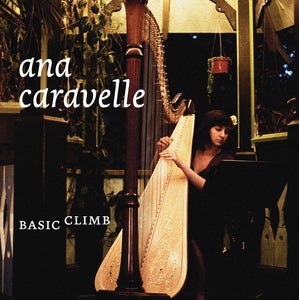 $

8.00
Non Projects is extremely proud to announce our second full-length release.
*Burgundy colored vinyl includes lyrics insert and mp3 download card.
"I had the privilege of mixing and mastering Ana Caravelle's debut LP. One of my faves this year." - Daddy Kev
"On something like 'Shapeshifting' you'll hear a more experimental, modern-classical grounded approach to composition that steers Caravelle away from such dangerous ground and into musically rich and rather original territory." - Boomkat
Enter Ana Caravelle (real name, Anahita Navab), a 22 year-old composer, vocalist, multi-instrumentalist and lifetime Los Angeles resident. With her refreshingly genuine musical outlook, Ana takes the influence of her city environments and turns them into something completely different - lush, organic and melodic gardens for listeners to plant their ears into. Basic Climb, Ana's debut album and the second full length release for Non Projects is a culmination of her first five years of classical harp training and sees her take musical flight with comprehensive and adroit songwriting and arranging skills.
Produced by her beau Ryan York (also known as Asura) and recorded at Alpha Pup label head Daddy Kev's studio The Echo Chamber, Basic Climb showcases Ana's soulful harp playing and luxuriant voice matched with her rich instrumental arrangements for voice, strings, winds and percussion.
Tracklist:
Side A
1. Where Have You Been?
2. Anti-Anxiety Pill
3. Basic Climb
Side B
4. Shapeshifting
5. Black Canyon
6. Blackberries
Total Run Time: 40:18
Listen:
Ana Caravelle - "Where Have You Been?"